At a Glance
Current UNC graduate student (professional, masters or doctoral student), including international students, who has a high proficiency or fluency in Spanish and experience in Puerto Rico.
Fully-funded, professional development opportunity for a current graduate student to co-lead Global Take Off: Puerto Rico
ID# 11092 | Last Updated: Wednesday, June 24, 2020
We are not accepting applications for this program due to the evolving nature of COVID-19 and the UNC System travel restrictions. We encourage you to explore other

funding opportunities

at Carolina.
Purpose
The Global Take Off: Puerto Rico Co-Leader takes part in a competitive professional development opportunity, co-leading the Global Take Off: Puerto Rico experience for a cohort of undergraduate students. The opportunity includes:
A fully funded trip to Puerto Rico to co-lead an interactive educational experience (all expenses for the entire program, including the trip, are covered). Tentative dates for the experience are December 2020. Please note that this is a professional development experience and is not a paid graduate assistantship.
Collaborate with the Center for Global Initiatives' Program Manager, the Institute for the Study of the Americas Executive Director, and partners in Puerto Rico.
Career and personal development and networking opportunities, especially around teaching, leadership development, and mentoring.
The Global Take Off: Puerto Rico program was established in 2015 and is made possible by a generous donation from UNC alumna, Maribel Carrion '77, '86 M.B.A., in honor of her sister, Marisela, who was also a UNC-CH alumna.
Applicant Profile
A strong applicant will need to be energetic, safety-conscious, globally experienced, and knowledgeable about the theme of identity (see theme section below). They should enjoy working with undergraduate students in a dynamic environment and should be able to motivate and engage students. Successful candidates will exhibit excellent personal leadership skills and have the ability to empathize, inspire, lead, mentor, educate, set limits, and enforce rules.
The ideal candidate will meet some combination of the following criteria: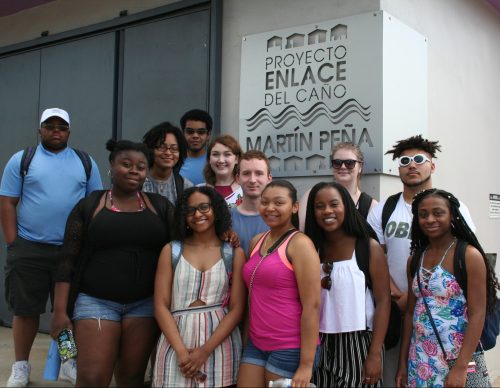 Experience working with students in and out of the classroom (working with underserved students is preferred)
Patience, flexibility, and adaptability in a highly dynamic environment
An ability to assess risk and make smart decisions regarding the health, safety, and overall well-being of the group
A passion for travel, exploration, and the program theme
Hear important takeaways from three past Global Take Off participants and enjoy a compilation of photos and videos from the 2016 Global Take Off cohort. To see more photos from past experiences, visit the CGI Facebook and Instagram pages.
Eligibility
Be a current graduate student (professional, masters or doctoral student) including international students at the University of North Carolina at Chapel Hill. The co-leader should have a high proficiency or fluency in Spanish and have experience studying, living, working, or spending time in Puerto Rico.
Role
Tentative: Review applications to make final selection of students
Attend planning meetings, two pre-departure orientation sessions in the fall semester, two post-reflection sessions in the spring semester, and the program.

The co-leader can expect to spend roughly 30 hours in the fall semester and 15 hours in the spring semester on this commitment (excluding the trip)

Create a syllabus with readings, videos, and homework, connecting the academic theme to the activities and the overall program experience

The co-leader will not be responsible for creating the programmatic activities. Instead, they will work with the program manager to select the most appropriate activities from previous experiences that align best with the theme.

Contribute towards accomplishing the following program outcomes for participating students:

Breaking real and perceived barriers to global opportunities; encouraging future global engagement
Assist in the development of intrapersonal, interpersonal, and intercultural competence
Empower and teach critical thinking and cognitive knowledge
Connect students to campus engagement opportunities to enhance their sense of belonging
Help students make connections to their academic and professional aspirations

Provide support for students, ensuring that students act responsibly, and communicating problematic situations to the co-leaders
Maintain responsibility for the safety of student
Application Instructions
The application must be completed online, and you can view a preview of the full application before you begin. The application consists of the following:
Basic contact and background information
Contact information for two references (letters should not be solicited)
A CV or resume (PDF format)
A Cover Letter (PDF format) that answers the following questions:

Why are you interested in this opportunity?
Explain what value you bring regarding the theme of identity. Share any experience/expertise that has prepared you to connect the experience to the theme (academically).
What experience do you have with Spanish language, Puerto Rican culture, and/or Latin America?
What experience do you have working with students who identify as minorities, low-income, transfer, student-parents, first-generation college students, or another underrepresented group? Read more about our Opening Access work for more information.
Theme
As the co-lead, you will be charged with connecting the academic theme of identity with a variety of activities. In order to create a sustainable and mutually-beneficial collaboration with our partners in Puerto Rico, we will be participating in the same activities and experiences during the trip. Below is more information about the theme of identity and examples of activities in which we can participate. Within the application, applicants must explain their experience/expertise about this theme.
Identity
Learn about Puerto Rican pride and local communities coming together to take charge of their hometown; explore a ceremonial indigenous heritage site and see how previous societies were structured; visit Samuel Lind's gallery, an Afro-Puerto Rican, internationally-recognized artist; explore race and politics within Puerto Rico; understand how identity is shaped in regard to Puerto Rico's relationship with the United States.
Dance Bomba in Afro-Puerto Rican communities; visit art galleries and museums from various perspectives; tour Santurce's street murals and art scene; learn about student groups at the University of Puerto Rico who participate in varying performing arts influenced by the Spanish.
Understand the influence of the African Diaspora in Puerto Rico; community visits to cultural centers in Piñones, Loiza, and Rio Piedras; explore African inspired food and dances (Salsa and Bomba) and tie them to history.
Application Timeline
Online application deadline: Friday, July 31, 2020 at 11:59 p.m.
Application status notification: September 2020