At a Glance

November 13, 2017 11:59 pm EDT
Students with limited travel experience who demonstrate financial need
Provides funding for students to participate in an interactive, five-day, faculty-led trip to Puerto Rico
ID# 10028 | Last Updated: Wednesday, December 20, 2017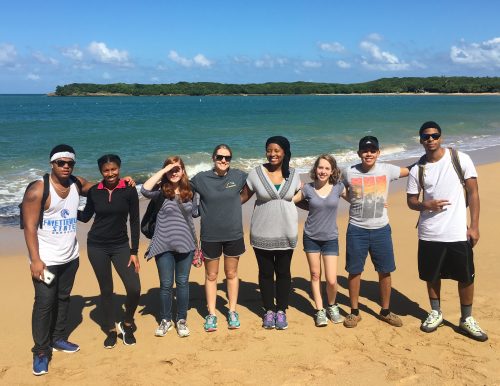 The Global Take Off: Puerto Rico program provides funding for students to participate in an interactive, five-day, faculty-led trip to Puerto Rico after final exams are over in May. It is part of the Center for Global Initiatives' Opening Access efforts to significantly increase the number of traditionally underrepresented students who have access to global opportunities. This effort opens access to students who face financial, cultural, and institutional barriers including transfer students, first-generation college students, student-athletes, and others. In collaboration with the Department of Athletics, this program includes the following components:
Fully funded trip to Puerto Rico to participate in an interactive educational experience, including discussions with Puerto Rican students and community members and tours of local sites and community organizations
Collaborative learning with both UNC and University of Puerto Rico faculty and staff
Career and personal development and networking opportunities
Students selected for the Global Take Off: Puerto Rico Summer cohort will meet in spring 2018 for pre-departure orientation sessions and in fall 2018 for post-trip reflection sessions. The actual trip to Puerto Rico will be from May 9 – May 15, 2018.
Is this program right for me?
Aligned with Opening Access effort, we encourage students of all backgrounds and perspectives to apply regardless of their academic discipline, age, disabilities, educational or family background, gender identity, racial or ethnic identity, sexual orientation or socioeconomic status.
Applicants must:
Have limited or no global travel experience
Demonstrate financial need through one of the following:

Pell Grant eligibility as determined by your FAFSA
An international student financial aid worksheet that demonstrates need
A narrative statement, if the other two options do not apply, that discusses need

Be returning to UNC as a student in the fall semester of 2018
We have a preference for applications from students who are graduating in December 2018 or May 2019.

What are the benefits?
Students will travel to Puerto Rico after final exams are finished in May of 2018. The trip will be led by Brandy Arellano, Program Manager at the Center for Global Initiatives, and Dr. Roberto Aponte, a lecturer in the UNC Exercise and Sport Science department since 1994 and an Adapted Physical Education Specialist at Chapel Hill Carrboro City Schools. Dr. Aponte is a native Puerto Rican who attended and taught at the University of Puerto Rico Cayey and Bayamón campuses, respectively. The program will include a combination of instructional and experiential opportunities as an introduction to Puerto Rican culture, politics, and race relations, and relate these broad topics to our theme of identity.
How do I apply and what is included in the application?
The entire application process is completed online and consists of the following:
Application form, including name and contact information
Five short answer questions
Supporting financial documentation (if required)
List of past global travel experience (if any)
One reference
UNC Honor Pledge
How are applicants evaluated?
Applications are evaluated by UNC faculty and staff review committees who will consider the following:
Financial Need
Does the applicant demonstrate financial need based on their FAFSA through the Office of Scholarships and Student Aid or a written statement?
Diversity of Background, Discipline & Perspective
Does the candidate bring personal experiences, perspectives and/or background to the opportunity that help the group represent UNC's diverse population?
How likely is the experience to impact a wide audience (other UNC students, local community, family) once the applicant returns?
Personal Impact
Would participation in the Global Take Off: Puerto Rico program allow the applicant to gain new, relevant global experience the applicant wouldn't otherwise have?
Will the proposed opportunity contribute deeply to the applicant's personal growth?
Prior Global Experience
How much prior global experience has the applicant already had?
What are the program requirements?
If selected for participation, all awardees must:
Attend two pre-departure orientation sessions (during the spring semester)
Attend two post-departure reflection sessions (during the fall semester)
Attend GO! Global Orientation on Culture + Ethics (April 14, 2018)
Complete an online survey before and after the trip
Present at one of the following:

The Center for Global Initiatives' Global Projects Showcase (three offered per semester)
UNC Development event
Other approved speaking engagement
Related Information Sessions & Events
Thursday, April 26, 2018 @ 5:30 pm
–
6:30 pm
EDT
Wednesday, August 29, 2018 @ 6:00 pm
–
7:00 pm
EDT
Sunday, September 30, 2018
Wednesday, October 24, 2018 @ 6:00 pm
–
7:00 pm
EDT
Wednesday, January 16, 2019 @ 6:00 pm
–
7:00 pm
EST