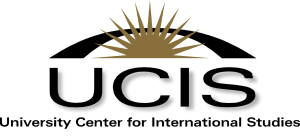 The Center for Global Initiatives was founded in 1993 as the University Center for International Studies (UCIS) with a mandate to internationalize the University of North Carolina at Chapel Hill. Our first major success was earning the designation and funding from the U.S. Department of Education as a National Resource Center for international studies.
Our work has helped elevate Carolina as a top-tier, global, public research university. During the past two decades, we have connected people across borders and disciplines with our programs and funding for projects across campus and the world.
Major Past Initiatives
Visualizing Human Rights Anticonference
Visualizing Human Rights (VHR) was an unconventional forum that brought together painters, photographers, writers, poets, filmmakers, and print-makers to put a human face on human rights in an effort to reach beyond traditional academic approaches.
Global Entrepreneur-in-Residence
CGI seeded the Global Social Entrepreneur-in-Residence position by bringing to campus Dennis Whittle, co-founder of Global Giving. After two successful years, CGI was able to step away knowing that this position had been institutionalized by other UNC units with major funding from an external donor.
Institute for Sustainable Development
CGI was a founding member of The Institute for Sustainable Development, which strives to be a model of the triple bottom line principles it espouses – conducting a financially sustainable operation with a positive environmental impact that fully engages its employees and stakeholders in its success.
Carolina Papers
This series of UNC Master's Theses promoted scholarship in the fields of Democracy and Human Rights, International Development, and International Health. The series was interdisciplinary and accepted work from diverse fields, including Business, Education, Health Affairs, Humanities, Information Science, Law, and Social Science.  Please contact the Center if you are interested in back issues.
global-e
CGI was a founding member of global-e, which provided a forum for commentary on global events, processes, and issues. Each edition featured brief essays (800 words) by leading scholars and practitioners, offering provocative reflections on a range of topics with the aim of stimulating discussion among the global studies community.
Diversity and Conformity in Muslim Societies: Historical Coexistence and Contemporary Struggles
This Mellon-Sawyer Seminar explored the tension between the legacy of diversity bequeathed by remarkably tolerant Muslim histories on one hand, and the efforts of post-colonial nation-states, internal activists, and international interventions to impose conformity and uniformity within contemporary Muslim societies on the other.
World Bank Managers in Transition Program
This program provided senior level World Bank managers who were between two major assignments two-week "mini-sabbaticals" to explore and enhance leadership, technical, and client engagement skills through interaction with faculty, students and professionals. The program, a collaboration with the Duke Center for International Development, also helped managers identify, capture and learn from their successes to overcome barriers to further success.
The Role of the Print Media in Forging Press Freedoms: An Exchange Program between Jordanian and American Journalists
In order to meet the double challenge of professional concerns over censorship and individual perspectives and biases on social and cultural differences, we developed a comprehensive exchange program between U.S. and Jordanian journalists to facilitate scholarly workshops and personal exchanges.
Eritrea Exchange Program
We maintained a faculty exchange and student training program with the University of Asmara, Eritrea. This project was funded by the United States Agency for International Development (USAID).
The Changing Nature(s) of Land: Property, Peasants and Agricultural Production in a Global World
This Mellon-Sawyer Seminar examined our relationship with land through four themes: the widespread transformations in property rights; the emergence of agrarian workers as a political force; the ecological impacts of globalization and economic development; and the intimate nature of food production and consumption from the standpoint of the body to the transnational.
State Apologies Project
This project explored how the West has started to come to terms with its actions in the world. We hosted a major conference on this topic in October 2004, which produced the book The Age of Apology.
Global American South Rockefeller Resident Fellowship Program
As a host institution of the Rockefeller Foundation's Resident Fellowships in the Humanities and the Study of Culture, the Center for Global Initiatives explored the emergent voices of new immigrants in the American South. This project produced several books.
Conferences on the Concepts of Regionalism
In conjunction with the North America Studies Program at the University of Bonn, we explored the concept of regionalism from a comparative perspective and produced two books.
Triangle Undergraduate Scholar in Security and Human Rights Program
In collaboration with Duke's Center for International Studies,we organized a series of workshops that explored two concepts that often are perceived as being at odds with each other: security and human rights.
Creating the Transnational South
Funded by the Rockefeller Foundation, the Transnational South Project addressed social and cultural changes associated with globalization and economic restructuring in the southern United States that have called forth new flows of people and capital between the southern United States and and Mexico, Central America, the Caribbean, Asia, and elsewhere. This project produced a book on the global south.
National Science Foundation Graduate Traineeship Program
The National Science Foundation awarded us a 5 year Graduate Traineeship grant to support Ph.D. students doing interdisciplinary research on democracy and democratization. This Traineeship program enabled students to build on the full range of contributions to this field. The program worked to overcome the sharp divisions between three major styles of work: studies based on large scale quantitative data sets; historical or cultural studies of smaller numbers of cases; and social and political theory.
UNHCR and the Protection of Refugees and Human Rights
We organized a conference on refugees and human rights in Spring 2001. The timing of this conference coincided with the 50th anniversary of UNHCR, but we did not want it simply to be a glossy retrospective; rather, we looked ahead with a critical eye to assess UNHCR's role in protecting refugees and human rights. While it is clear that refugees and human rights are linked, a dialogue between these two issues is too often missing, and our conference sought to bridge this gap by bringing together experts on refugees and on human rights. We also created a balance of junior and senior scholars and produced an edited book.
Legitimacy, Sovereignty, and the Delivery of Women's Health
Funded by the John D. and Catherine T. MacArthur Foundation, this interdisciplinary research project was a collaboration between UNC and universities in Tanzania and Zambia. The objective was to analyze the relationship between state and non-state actors in the delivery of public health goods in order to help explain why this relationship has tended to be conflictual and to explore possibilities for cooperation.
Mellon Sawyer Seminar on Race
This Mellon-Sawyer seminar took a cross-national and interdisciplinary perspective on the concept and consequences of race.
Mellon Sawyer Seminar on Regionalism
With support from the Mellon Foundation, we hosted a Sawyer Seminar titled "Reading Regions Globally" which highlighted the dynamic tension and interplay between globalism and regionalism and other substantial identities, such as ethnicity.
University of Jordan – University of North Carolina at Chapel Hill Partnership Initiative: Studying the United States Across Boundaries
Together with the Center for the Study of the American South we formed a two-year partnership with the University of Jordan to help strengthen the study of the United States, especially the American South.  A series of exchanges and linkages offered Jordanian faculty and students an opportunity to engage in issues concerning American Studies and help develop international partnerships with faculty around the world involved in American Studies programs. This partnership was part of the U.S. Department of State 's Middle East Partnership Initiative, in cooperation with The Association Liaison Office for University Cooperation in Development (ALO) and the U.S. Agency for International Development.
Middle East Demography: an international research and scholarship project
In partnership with the Carolina Population Center with generous support from the Andrew W. Mellon Foundation and the US Department of Education, we convened scholars from multiple disciplines to explore historical and contemporary institutions, ideologies, and actors that have shaped and are shaping family life in the Middle East (including Turkey and Iran). Experts in the study of the family in sociology, history, law, and religion provided critical commentary on the original contributions presented through conferences and refined through cross-border collaboration. This project produced a book.
Culture from the Kitchen
"Culture from the Kitchen" brought together students, professors, and community members for an evening of international food and discussion. Each meeting featured a different local restaurant and international cuisine. Past programs featured Indian food and culture at the Indian Palace in Chapel Hill and Ethiopian food and culture at the Blue Nile in Durham.
North Carolina Consortium for the Study of Human Rights
In collaboration with Duke's Center for International Studies, we launched the North Carolina Consortium for the Study of Human Rights (NCCSHR), which was open to scholars and practitioners interested in studying and promoting human rights. The consortium met regularly to present papers, discuss curricula, formulate policy, and develop collaborative projects.
Internationart
Internationart merged art with international studies. In this spirit, we hosted art exhibits and a discussion series with an international focus that engaged artists and international studies scholars in conversation. Each exhibit featured an opening reception where the artist, the campus, and community discussed the exhibit and its social, economic, cultural, and political implications.
Europe, Africa, and the Americas: 1945-2000
We hosted a conference: "Transatlantic Exchanges: Europe, Africa, and the Americas 1945-2000" on October 21-23, 1999. This initiative was co-sponsored with the Rudolf Agricola Institute at the University of Groningen, The Netherlands.
Conflict in Africa
In February 1999, we partnered with the Triangle Institute for Security Studies (TISS) and orchestrated a conference to address Armed Conflict in Africa with a focus on the origins of African armed conflicts and efforts at reconciliation and conflict prevention. Participants included American, African, and British leaders in government, academia, and the non-profit sector. This conference produced a book.
Save
Save